1860
WM Lee started its journey
Wm. Lee Ltd. had its early beginnings around 1860 at Montrose Works, Sheffield, some six miles north of its present site in Dronfield, North Derbyshire.  They were malleable ironfounders and machinists, manufacturing parts principally for the agricultural industry.
The association with Dronfield, the town where Samuel Lucas had in earlier years carried out the UK's pioneering work on the production of Whiteheart malleable iron, came in 1870 and in 1901, the final move began to what still remains part of the present site on Callywhite Lane.
1870 -1901
WM Lee moved to its current home - Callywhite Ln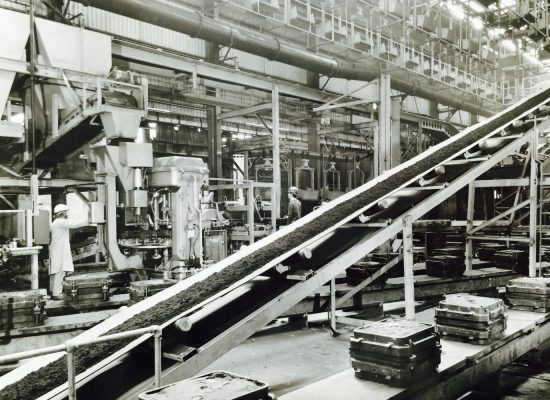 1924
Involvement in the business by members of the Lee family ceased
1924 - 1963
Wm. Prestwich & Son Ltd
In 1924 WM Lee was acquired by WM Prestwich & Sons. The business continued to grow under WM Prestwich until 1963.
In 1963, WM Lee was bought from WM. Prestwich & Son by Tarmac. The production of malleable iron castings continued almost to the exclusion of other materials until the mid. 1970's when spheroidal graphite iron made its entrance to the business. The next twenty or so years saw the conversion of many malleable castings to SG iron and by 1996, all remaining malleable work had been transferred to the parent company's foundries in Brownhills, W. Midlands
1986 - 1990
Parkfield Group PLC
In 1986, WM Lee was once again sold, This time to Parkfield Group PLC
In 1991, WM Lee was bought by its current owners, Castings PLC.
Since its purchase by Castings PLC, the company has witnessed and benefited from dramatic change with the three foundries on the site being completely re-built and further major changes including the elimination of cupola melting, extensive improvements and expenditure on environmental control equipment, the introduction of a greensand reclamation unit and the purchase of fourteen robotic grinding machines.

2001
WM Lee opens its third foundry
Completed in December 2001, was the building of a new foundry on a brownfield section of the site.  This foundry houses a "ComPac" tight flask moulding line produced by Schaffhausen based Disa AG with metal supply coming from two 6 tonne capacity Inductotherm medium frequency furnaces. 
in 2007, a £18 million investment developed on a brown field site to house a self-contained production plant comprising a state-of-the-art, HWS – SEIATSU fully automated "boxed" moulding plant.
The purpose built factory allows manufacture of parts from receipt of raw material to completion of finished product through an optimised process flow. Castings are de-sprued, shot blasted and processed on a series of robotic "Koyama" grinding machines to point of despatch.
2007
WM Lee invests £18 Million in state-of-the-art foundry
2015
New Storage and Loading facility built
November 2017 saw a change at William Lee, with the installation of 8 Swedish built robots in the process shop. The robots are to help finishing the castings to a high-quality specification.