Who are William Lee?
William Lee has existed as an iron foundry for over 100 years and spent the majority of its time on Callywhite Lane.  It has deep history since it began in 1860 as a family business at Montrose Works, Sheffield.  The company moved to Callywhite Lane in 1901 and in 1924 the business was no longer owned by the Lee family.  The foundry specialised in the production of malleable iron castings under various owners, such as William Prestwich and Sons in 1924, Tarmac in 1963 and Parkfield Group in 1986.  During the Parkfield years the foundry started the move away from Malleable iron to spheroidal graphite iron (SG iron) as the business moved more towards truck and automotive iron castings. 
In 1991 the company was acquired by Castings PLC, and since that time the business has seen significant investment in new buildings, plant and equipment heading towards £50M.  
Today William Lee is one of the largest foundries left in the UK, following the demise of the UK foundry industry due to lack of investment, productivity and intense Worldwide competition.  It is continual investment in plant, processes and a dedicated workforce that has enabled the company to remain in business. The company's old 4 tonne ladles mark the entrance to Dronfield in two strategic places.  These ladles where used for the production of malleable iron produced through cupola melting.  Iron being transferred from the cupola receiving drum into these ladles for transferring into a large holding furnace.
WM Lee Facts!
Average time our staff have worked here is 10 ½ years.
% of the workforce living within 5 miles of the foundry is a staggering 75%
We currently employ around 400 people.
Community: For many years we have supported the NEDDC Brass Band, and we also supported the Mill Lane Development Project.  Our car park is often used (with our consent) for local events.
What do William Lee do?
William Lee produces parts for just about every truck manufacturer; Scania, Volvo, Daimler etc.  Parts ranging from exhaust manifolds, exhaust pipes, chassis brackets, spring brackets, bearing caps etc.  Today 70% of production on the site is for commercial trucks; that is 20,000 tonnes p.a. of iron castings on trucks moving goods around the World.  Automotive parts include suspension, steering, and braking components for some high end passenger cars such as Bentley and JLR, along with braking parts for companies such as Alcon and turbo charger housings for Borg Warner.
William Lee also has a long association with Pandrol of Worksop and has been supplying railway line components for decades.  In recent times most of these products have been supplied by low cost based countries in Asia, but William Lee is sometimes able to compete based on low lead times.
The material grades made by the company has grown, particularly in the petrol and diesel engine exhaust gas emissions control, where temperatures are up to 1,000 degC.  For these produces special grade SG known as SiMo and D5S Ni Resist has to be used.  This is one of the markets where William Lee has a strong reputation for truck engine components.
How do we do it?
William Lee converts good quality scrap metal into cast iron using medium frequency induction furnaces; the iron is then poured into sand moulds.  All this sounds very simple of course, but in reality it is technically challenging and relies on a skilled and dedicated workforce to ensure high quality products are made on the plant.
Each day the foundry melts 250 tonnes of scrap metal which converts into 135 tonnes of iron castings.  Each casting is produced from a pattern that is a replica of the part to be made.  After the casting is produced it will be ground and fettled before being shipped to the customer, in certain cases the castings are painted and machined before being shipped.
We produce over 25,000 castings daily and we ship them worldwide!
Each year the foundry is assessed by North East Derbyshire District Council for environmental compliance for its A2 permit.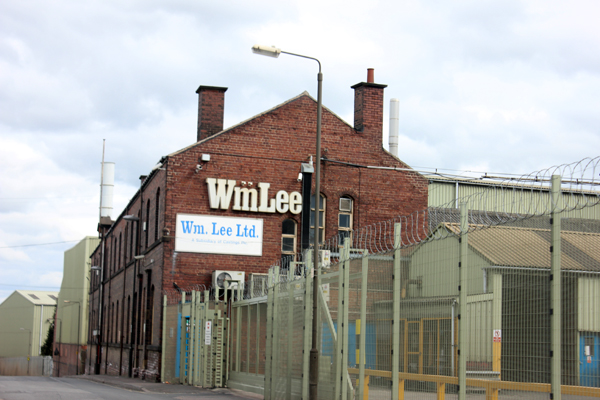 Opportunities at William Lee
From time to time the company has vacancies in all areas, from senior management to foundry operatives.  We have full technical capability on site, with engineering staff that includes pattern makers, electricians, mechanical engineers, laboratory technicians, Quality Assurance, IT and administrative support.
We often recruit apprentices, and there is no better opportunity to develop a career in engineering than through the Apprenticeship Scheme. We use a variety of training providers including the Advanced Manufacturing Research Centre (AMRC), Chesterfield College and Sheffield College. We also have a partnership with the Elite Centre for Manufacturing Skills (ECMS) in Wolverhampton for foundry apprentices. We take on several apprentices each year in engineering (mechanical and electrical), Computer Aided Design and foundry specialists.  
See our careers page for more information & current vacancies