We have a wide range of core making facilities producing over 400,000 cores per week. Our facilities include 'Hot-box' (Shell) and 'Cold-box' cores allowing us to match the right type of core to each job.
Hot-Box (Shell)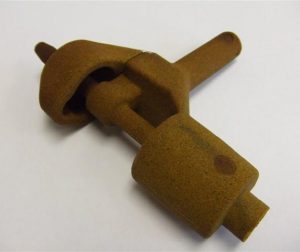 Shell cores are made by blowing resin-impregnated sand into a heated metal core box. The resin hardens when heated up to a given temperature meaning that any sand that comes into contact with the hot surfaces of the core box will harden. Sand within the centre of the core is insulated by that of the sand surrounding it, which is then free to fall out leaving a hollow shell hence the term 'Shell Core'.
Cold-Box (Laempe)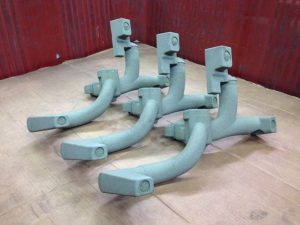 Over recent years we have invested in state-of-the-art Laempe core shooters. These work by mixing a two-part resin with sand, which in turn is blown into the core box. Unlike the 'Hot-box' process where heat is used to cure the sand, this resin cures when it reacts with a gas (Amine), which is simply blown through the core box. The outcome is a solid core rather than a hollow core; this process lends itself to producing larger cores, which complements our newest horizontal foundries.
Microwave Oven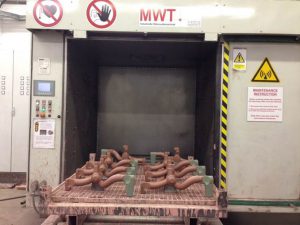 Where core coating is required to achieve higher surface finishes or to conceal the joints in core assemblies; microwave drying allows for a quicker and more efficient method of core drying over air or conventional oven drying.