THE WILLIAM LEE CHRISTMAS TREE
William Lee has been invited to join the local Christmas Tree Festival at Dronfield Church. The theme was that each tree had to reflect the business it was from, so we decided to use what we manufacture – iron castings! Chris Hall (in the photo) our fabricator/welder expertly turned our castings into a very unusual Christmas tree! The tree is currently on display along with over 100 other trees, the festival closes on Sunday 9th December and is well worth a visit. The tree has had many compliments for its unique industrial design.
The finished tree weighs in at a massive 150kg. We used 40 castings weighing a total of 86kg, a centre pole weighing 26kg and finally a base weighing 38kg!! The tree will be used in William Lee's reception area at Christmas for years to come, and throughout the rest of the year it will be a talking point in our visitor centre. Well done Chris, an outstanding achievement!
What is the tree made out of?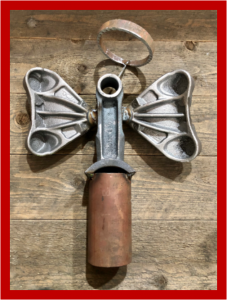 Our Angel is made from an agricultural flail we supply to several  companies,  the wings are brackets for an exhaust system for Eberspaecher, a large supplier to the automotive industry.
The top tier of the tree is also a cast agricultural flail supplied to several companies, this one is designed to cut grass and hedges.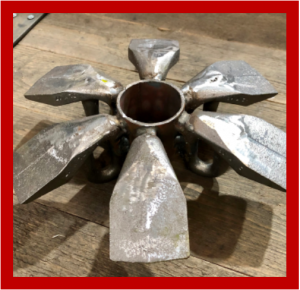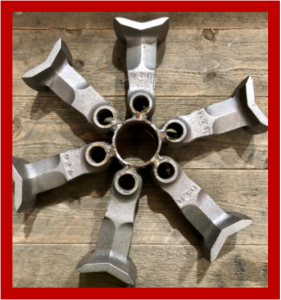 The 2nd tier of the tree is another flail, this one is designed to cut hedges. We supply this one to Spaldings who are one of the UK's leading agriculture and groundcare specialists.
The 3rd tier of the tree is a railway shoulder, this is cast into concrete railway sleepers to hold the railway tracks in position.  We supply this to Pandrol who design, develop and manufacture equipment to make constructing and maintaining railways more efficient.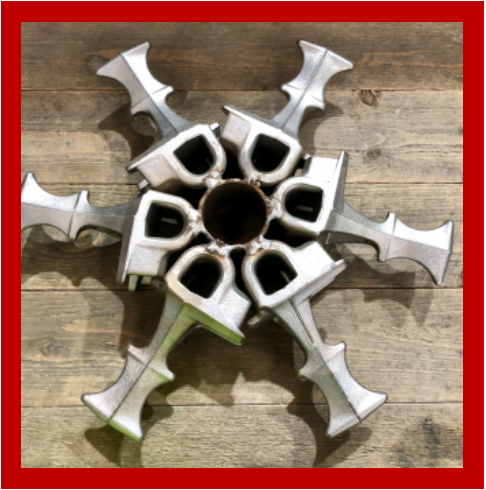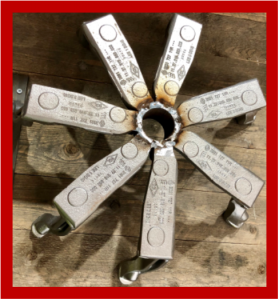 The 4th tier of the tree is an exhaust bracket, this one is for Renault and it fits many of their cars.
The 5th tier of the tree is made from  a Daimler Truck M-Deg Engine bracket—this is the heaviest tier on the tree.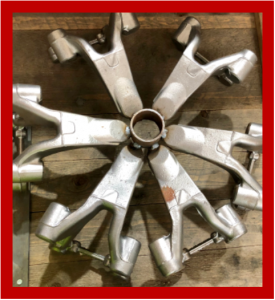 The 6th tier of the tree is made from a lever we manufacture for Scania lorries. Scania  is a major Swedish manufacturer of commercial vehicles, specifically heavy trucks and buses  
The bottom tier of the tree is a 'Claas' Tractor Clutch pedal. Claas is a leading tractor manufacturer throughout Europe.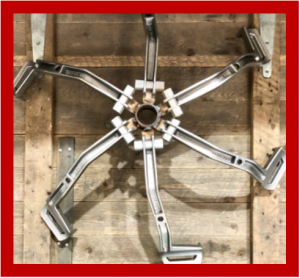 Sections of pole use to space the branches